Make better decisions by turning data into information
Make better decisions by turning data into information
25-05-2021
Do you recognize the following situation where your PMO gets overwhelmed with loose Excel sheets coming from all directions? Where it almost seems impossible for them to visualize the project portfolio in an understandable way. And when it's finally visualized, all projects appear to be equally important so you still can't make any proper decisions? If you recognize this, please know that there is a solution!
This solution goes under the name Meisterplan and they position themselves as: 'A lightweight solution to get you back to business with the right projects and the right people at the right time.' It will help you make better and informed decisions by its rich capabilities such as dashboards, scenario planning, prioritization, ranking mechanisms and data uploads. Let's deep dive on the last one, uploading data. Most importantly because it's a huge challenge to translate data coming from various sources into useful information. On a side note, the other topics have already been thoroughly explained in an earlier blog.
Importing data can be done in several ways. Meisterplan comes with out of the box integrations for JIRA and Smartsheet. Meisterplan can absorb Excel sheets and more importantly, it comes with a Quick Import feature. This feature allows you to simply copy and paste data from whatever tool into Meisterplan. By following a couple of simple steps it allows you to import items like projects, resources, milestones and much more.
Let's see how these simple steps of the quick import feature work by uploading some projects which are listed in an Excel sheet.
The first step is to determine the type of data we need to upload, in our case we select the data type: Projects.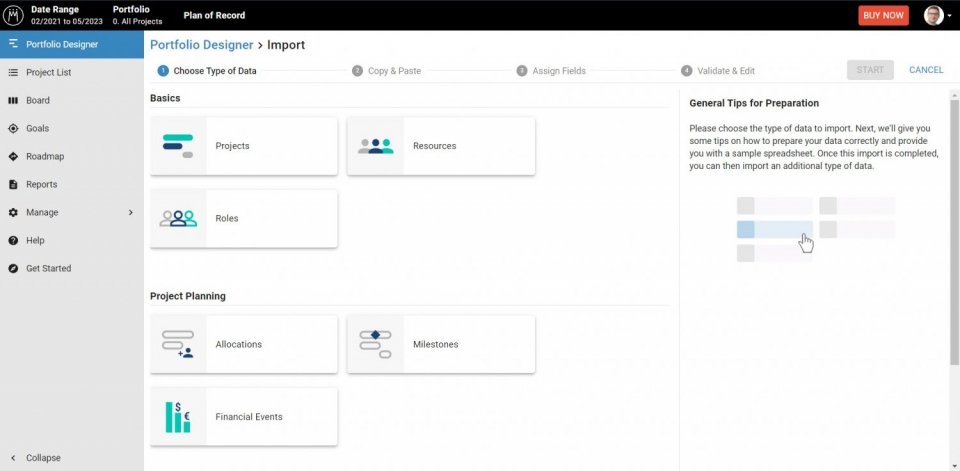 The second step is to simply copy-paste the data into Meisterplan.
As a third step, we need to match the columns from the upload data with available fields in Meisterplan. If the column names haves the same label as the fields in Meisterplan, the mapping will be done for you, otherwise you need to drag the available Meisterplan fields to the corresponding columns.

Finally it's time to validate and maybe even edit the data before uploading it. Meisterplan directly tells you how much projects will be uploaded and/or overwritten.

When the projects of this Excel sheet are uploaded, you can repeat these steps for other Excel sheets containing projects, or start uploading Resources, Allocations, Milestones, Financial Events, etc. Once you've uploaded all your data, it is instantly transformed into information and you can use the real capabilities of Meisterplan. Now it's time to start analysing your portfolio, prioritize and rank your projects , create scenario's and make informed and better decisions.
Of course Meisterplan will not instantly fix all your issues, but it will definitely help you improve decision making on portfolio level. Once aligned with your portfolio management processes, you can directly benefit from its data-driven scenario's, great visualisations and get all the insights needed to make the decisions to do the right projects with the right people and the right time!
Want us to demo your data? Reach out and we'll help you out!