Investment justification using edison365businesscase
Investment justification using edison365businesscase
29-06-2020
Investment justification using edison365businesscase
In the old days project success was measured against delivering predefined deliverables on time and within budget. Nowadays the focus is more and more shifting towards delivering value to the organization. It's no longer about the question 'are we delivering what was asked for?', but more about the question 'does what we are delivering justify the investment for creating it?'.
According to the Association of Project Management (APM) the business case provides justification for undertaking a project, programme or portfolio. It evaluates the benefit, cost and risk of alternative options and provides a rationale for the preferred solution.
the Business Case
There is a misunderstanding that a business case should be a thick manuscript created by expensive consultants. The opposite is true. There is no magic formula to write a good business case, and there is for sure no minimum number of pages. It's all about providing the necessary information in order to support decision making. This of course doesn't mean that a little structure can't help.
Without going into details, when I talk about a little structure I mean information regarding to the following elements:
strategic context: the link between the proposed change and the strategic goals;
economic context: the options considered and the solution that brings most value;
financial context: the proposed investment is affordable in the time frame;
management context: the project organization and governance are in place and achievable with manageable risks.
commercial context (if applicable): the proposed solution is commercially viable;

edison365businesscase
edison365businesscase enables your organisation to create various types of business cases rapidly and in a structured way. It is fully configurable to meet your organisational needs and allows you to select the appropriate template and instantly begin creating the business case in an intuitive way. edison365 is built for Office365 and leverages your investments made in this area. For example it contains an integration with MS Teams and allows reporting in Power BI.
Let's go through an example of a demand management process with the following steps:
Demand is first submitted and scored and after this assessed. Once positively assessed, it's time to create the business case which needs to be reviewed. Final step is the approval itself which leads to a decision about the justification of the investment.
In the first stage of the demand management process edison365businesscase asks for some generic information such as the description, project type and importance to the requestor. Next to this a scorecard is available in which the initial impact is assessed. Once this stage is finished the business case can be submitted for review.
It now enters the Assess Demand stage where one or more reviewers can be assigned and asked for formal approval on the submitted demand. Once the assessment has taken place, a version of the Business Case will be saved for future reference.
As the assessment of the demand was successful, the Create Business Case stage start. During this stage more information will be asked. Some new tabs will appear, while others will be hidden or greyed-out to prevent changes to the initial assessment. The data offcourse remains available for reference and reporting purposes.
In our example we are asked to provide some options on possible solutions and have to provide the reasoning for the most appropriate one.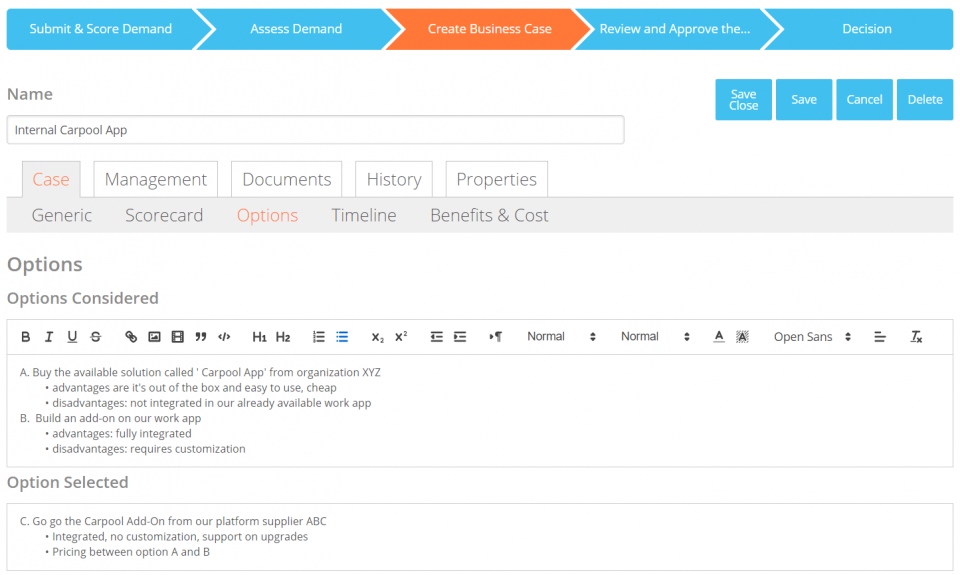 Next to the options considered, we are asked to provide more details on the foreseen Project Risks and Critical Success Factors. We can use the timeline tab to setup a draft project schedule.
Lastly some financial information about benefits and cost is required.
When all information for the business case has been entered it's now ready to be submitted for final approval. This goes in exact the same way as in the submit and score demand stage. We can choose to select the same reviewers, but you might consider involving others (e.g. a financial controller) as well. In the end this process results in a decision made about the business case. It's either approved or cancelled. After approval you can start up the project in for example edison365projects, or any other project management tool of your liking.
Business Case Reporting
One of the big advantages of edison365businesscase is the capability to report on your data, something which isn't possible for business cases created in Word or PowerPoint. Power BI enables you to create reports for individual business cases, but also allow you to summarize data into portfolio reports.
Especially combined with data from your project management tool, it creates a powerful solution to steer your project portfolio through the entire funnel.
Conclusion
edison365businesscase supports you in taking decisions on business cases based on structured information. It allows you to create various templates for different business case types. Each type can have its own set of fields, tables and timelines. Because of this you no longer need various word templates in which people tend to make changes to lay-out or content. Another great advantage is the approval workflow which enables you to move a business case through several stage gates in a managed way. By keeping track of the demand, you can regularly check if it's is still feasible and worthwhile creating a business case for. Lastly, you are able to report on your business cases and compare them with running projects in order to allow decision making on portfolio level.
Want to know more? Reach out to us and let's discuss how we can help you!